On Tuesday, December 8, 2020, Prime Minister Dr. Hon Ralph Gonsalves addressed the opening of the 7th Summit of Heads of States and Governments of the Caribbean Community and the Republic of Cuba.
This edition of the Summit was held virtually because of the Covid-19 pandemic with the Vincentian delegation participating from Cabinet Room in Kingstown. Prime Minister Gonsalves delivered remarks in his capacity as Head of Government of Saint Vincent and the Grenadines as well as the current Chairman of CARICOM.
In his remarks, Dr. Gonsalves expressed appreciation on behalf of CARICOM to the Government of the Republic of Cuba for the arrangements made for the holding of the Seventh Summit at such an exceptional time and stated that he hoped for frank and robust discussions of the issues on the Summit's agenda. He also placed on record the gratitude of CARICOM for what he termed a "stellar example, of Cuba's solidarity in the timely and comradely initiatives of the provision of public health personnel to Caribbean nations to reinforce and enhance the response capacity in facing the public health challenges of the Covid-19 pandemic."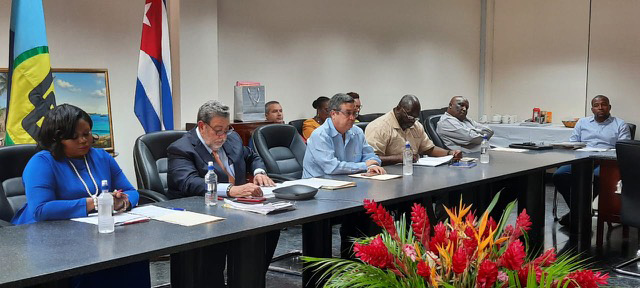 Dr. Gonsalves also took the opportunity to reiterate the Caribbean Community's unreserved condemnation of the continuation of the unjust and unilateral economic embargo that is a continued violation of the United Nations Charter principles.
The local delegation included the Minister of State with responsibility for Foreign Affairs and Foreign Trade Senator Keisal Peters, Minister of Health, Wellness and the Environment Hon. St. Clair Jimmy Prince, Minister of Education Hon. Curtis King, Ambassador to CARICOM, H.E Allan Alexander, Ambassador of Saint Vincent and the Grenadines to the Republic of Cuba H.E Ellsworth John (in Cuba) and other officials from the Ministry of Foreign Affairs. A local Cuban delegation lead by the Ambassador of the Republic of Cuba to Saint Vincent and the Grenadines H.E José Manuel Leiva Ventura was also in attendance. The opening session was chaired by H.E Miguel Diaz-Canel Bermúdez, President of the Council of State and Council of Ministers of the Republic of Cuba.
Source: Prime Minister's Office